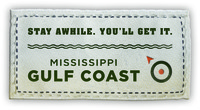 Mississippi Gulf Coast Regional Convention & Visitors Bureau
, Mississippi Gulf Coast, Mississippi
228-896-6699
---
The Mississippi Gulf Coast is a very distinctive region culturally, historically, and enviromentally, where many chapters in the national story have been written. The bounties of the Gulf Coast's natural resources have brought people to this area for hundreds of years, from all over the world. But, it is the interactions among the area's geography, resources, people and responses to events, either caused from the actions of humans or forces of nature that shaped this area, making it a place like no other.

Culture on the Mississippi Gulf Coast is unique, as it is distingushed, by its multi-ethnicity, customs, passion for life, and resiliency. For the past 300 years, people with different ethnic backgrounds have settled on the Gulf Coast of Mississippi for a wide variety of reasons and today the culture and heritage of these multiple ethnic groups can be still be seen throughout the area. With this unique culture, a dynamic story has been written, dating back to 1699. The Mississippi Gulf Coast is where inland waterways and pathways meet the sea. It is where pine forests, rivers, marshes, bays, and islands together create a landscape that is distinctive along theGulf Coast and unlike the rest of Mississippi. The lifeblood of the Mississippi Gulf Coast is its waterways, from the Pascagoula River in the east to the Pearl in the west and southward to the Mississippi Sound. These waterways have attracted explorers and settlers for thousands of years. The Mississippi Gulf Coast has been and continues to be a unique blend of people and lifeways from all over the world.

Whether it's a romantic getaway, an action-packed adventure, or a fun-filled family vacation, visitors will discover it on the Mississippi Gulf Coast. From picturesque, white-sand beaches; luxurious, full-service casino resorts; exciting, fun-filled outdoor activities; championship golf courses; taste-tantalizing cuisine; plentiful shopping; must-see cultural attractions; and world-class entertainment. What ever you are looking for, you will find it on the Mississippi Gulf Coast.